Books
Three volumes of poems, and a book of non-fiction in progress. And much that has drifted away unwritten.
Shadows Don't Live In Walls
Poetry / English
First published: 2004
Publisher: Writers Workshop
ISBN 10: 8181571622
ISBN-13: 978-8181571625
On Amazon: https://amzn.to/2yXscyM
"Still, the one thing that struck me in his early poems continues to amuse. The way he approaches everything abstract that he perceives through the senses... It is now that he sees his house as bare brick and mortar; fails to give the sky a name; and is able to address his ancestors without undue respect or inhibitions." – Swadesh Deepak in his preface to the book
Water Sipped In A Dream (सपने में पिया पानी)
"Despite its somewhat anarchical development in phases, poetry remains the art of bringing to light the journals of the inner world... In present times, when the inner world of man is under all kinds of attack; when there's a visible conspiracy to alter its texture through external influences; [here's a poet who] values his world within above everything else..." – Geet Chaturvedi in his preface to the book
"...a young poet with a deeprooted restlessness and concern... with a flowing style dangling like twigs of grass." – Liladhar Mandloi in "Vartaman Sahitya"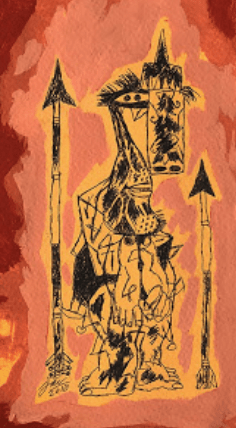 Luqman Ali: Painting by Jai Zharotia
Co-translator into English of Luqman Ali, a landmark long Hindi poem by Soumitra Mohan
First published: Chandrābhāga 14/2006
Subsequently in: Asymptote